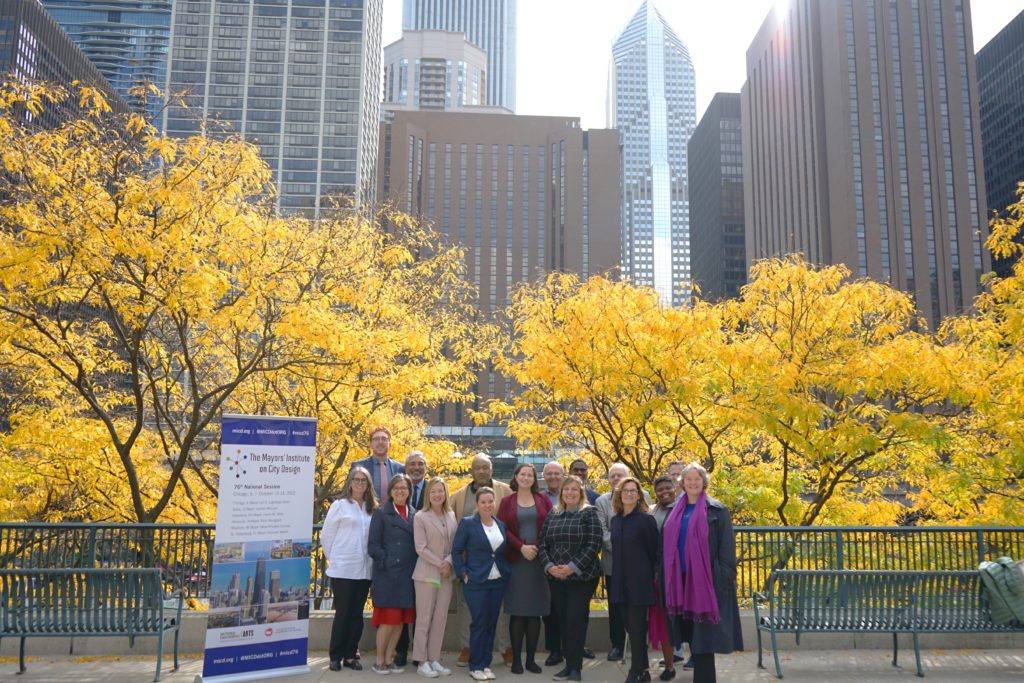 The 76th National Institute Session of the Mayors' Institute on City Design (MICD) took place October 12-14, 2022 in Chicago, IL, hosted by Mayor Lori E. Lightfoot.
The event brought together four mayors from around the United States to discuss the most pressing design and development challenges facing their cities. Six experts in architecture, landscape architecture, urban planning, arts and culture, economic development, transportation, real estate development, and urban design joined the mayors for two and a half days of discussions, offering pragmatic advice for each mayor's project.
The session began with a tour of Chicago, showcasing the city's rich history along the Chicago Riverwalk, a civic space and linear park decades in the making. The Chicago Riverwalk was originally envisioned in Daniel Burnham's 1909 Plan of Chicago, and would have remained only a vision if not for a legacy of mayoral stewardship, millions of dollars of local and federal investment, and years of deliberate, dedicated planning and design work.
The opening reception and dinner followed at the Chicago Architecture Center at One Illinois Center, designed by Mies van der Rohe in 1967. Chicago Mayor Lori Lightfoot offered an opening speech, detailing some of the innovative ways her administration is striving for equity and resilience across the city. She spoke of the new Public Outdoor Plazas (POP!) program, a $5.3M, ARPA-funded series of 10 public plazas to be built across the city's south, west, and north sides. This is part of the mayor's INVEST South/West initiative, which has aligned more than $1.4B in public and private investment for small business support, historic preservation, and public improvements in twenty-two of Chicago's disinvested neighborhoods and commercial corridors. Welcome remarks were also provided by Trinity Simons Wagner, Executive Director of the Mayors' Institute on City Design; Maya Hering, Design and Creative Placemaking Specialist at the National Endowment for the Arts; and Tom Cochran, CEO and Executive Director of the United States Conference of Mayors.
Over the two days that followed, robust discussions provided each mayor with concrete ideas for their projects as well as a new understanding of the design process. The mayors brought a range of projects to this session, seeking to address a wide array of urban challenges through improvements to the built environment. They took away new ideas for developing park-adjacent affordable housing, activating civic commons, altering perceptions of safety in public spaces, and building capacity for community services. The mayors also came away with a renewed commitment to public service and a clear sense of their role in leading their communities forward.
"This provided a great opportunity to focus on the impact we can have in our communities when thinking about design, parks, arts, culture, and mobility. The chance to share my love for cities with mayors and renowned experts has been awesome – stimulating and motivating."
Boise, ID Mayor Lauren McLean
Members of the Resource Team – experts who served in a volunteer role on behalf of the nation's cities – introduced participating mayors to the design process and the ways it can generate creative solutions to complex problems. Over the course of the session, the Resource Team shared a wide range of tools and best practices for planning and development projects, infusing history, arts and culture, and equity into every project. Through the lenses of architecture, planning, and related fields, the Resource Team helped the mayors look at their cities with a fresh perspective and new appreciation of their role as "chief urban designer."
"This program provides mayors with an unparalleled opportunity to think broadly and explore design solutions that can be transformative for their communities."
Margaret Wallace Brown, Planning & Development Director, City of Houston
Mayors
Chicago, IL Mayor Lori E. Lightfoot (Host)
Boise, ID Mayor Lauren McLean
Cleveland, OH Mayor Justin M. Bibb
Honolulu, HI Mayor Rick Blangiardi
Madison, WI Mayor Satya Rhodes-Conway
Resource Team
Carlton Brown | Direct Invest Development, New York, NY
Vishaan Chakrabarti | PAU, New York, NY
Mary Margaret Jones | Hargreaves Jones, New York, NY
Lynne McCormack | Rhode Island State Council on the Arts, Providence, RI
Margaret Wallace Brown | City of Houston, Houston, TX
Ariel Ward | San Francisco Metropolitan Transportation Agency, San Francisco, CA
The Mayors' Institute on City Design (MICD) is a leadership initiative of the National Endowment for the Arts in partnership with the United States Conference of Mayors. Since 1986, MICD has helped transform communities through design by preparing mayors to be the chief urban designers of their cities. MICD conducts several sessions each year. For a list of upcoming events, past participants, and more information, visit micd.org and follow @MICDdotORG on Twitter.