Institute
Sessions
Our flagship program since 1986.
Overview
Institute Sessions are the core of MICD. At these collaborative workshops, mayors engage with design leaders to find solutions to the most critical planning and design challenges facing their cities. Sessions are organized around case study projects: Each mayor presents a project from their city and receives feedback from other mayors and design leaders.
Details
MICD holds several Institute Sessions throughout the country each year. Participation in each 2.5-day session is limited to approximately six mayors, six design leaders (the "Resource Team"), and MICD partners. Each mayor selects a project or challenge from their city that the mayor is actively working to address. Past projects have included the following topics: neighborhood revitalization, transportation planning, creative placemaking, district visioning, branding, main street and commercial corridor redevelopment, affordable housing, equitable development, historic preservation, and sustainable development.
Before the session, an MICD representative arranges a site visit to each mayor's city to help the mayor select a project. At the session, mayors introduce their projects with a 15-minute presentation, and the attending mayors and design leaders identify important issues, offer suggestions, and discuss potential solutions. The interchange sparks lively debates, generates new ideas, and inspires creative thinking. Between these discussions, each member of the Resource Team also delivers a presentation on their area of expertise.
Three key aspects make Institute Sessions unique: mayors attend without their staff; sessions are closed to press; and the members of the Resource Team are serving as volunteers who receive only a modest honorarium and are prohibited from soliciting work.
Several Institute Sessions are hosted around the country throughout the year. National Sessions are planned and hosted by MICD staff in various cities around the country, while Special Sessions are hosted by universities or nonprofits selected through a competitive RFQ process each year. Mayors experience the same powerful format and impactful results at both types of sessions.
Explore examples of past projects brought to MICD sessions.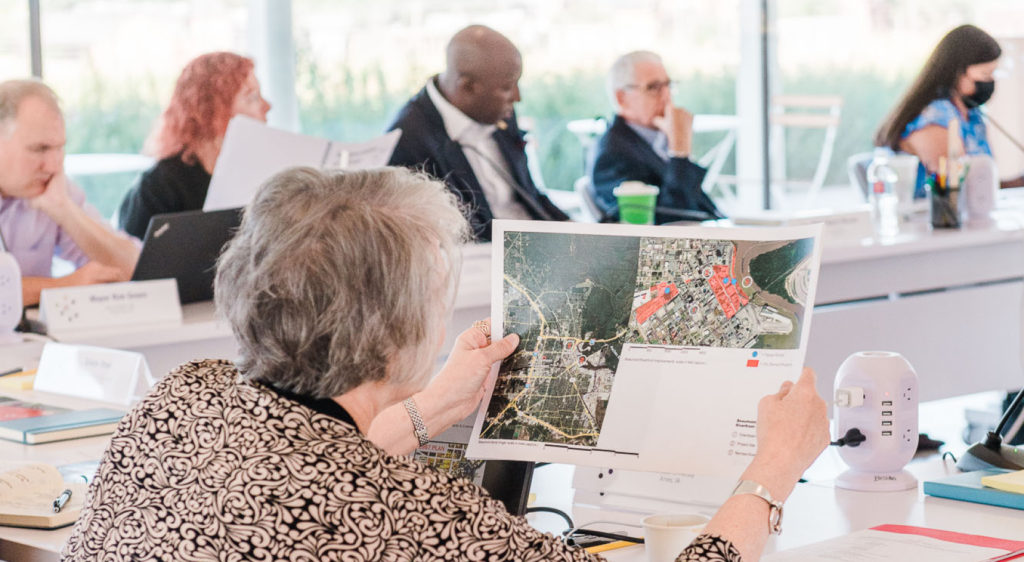 Eligibility
Participation at Institute Sessions is by invitation only. Some sessions are geared toward specific city types or project topics. To express interest in a future invitation, please contact us.
Time Commitment
While participants commit to traveling to and attending the entire 2.5-day session, the experience is otherwise designed to involve minimal preparation time for mayors and their staff:
Identify several options for projects and gather background information on them
Lead a half-day site visit in your city for the session host to help you choose a project
Create a 15-minute presentation about your selected project
Attend the full 2.5-day session, plus travel time
The session host team produces detailed briefing materials based on the site visit. After the session, you will receive a report summarizing the recommendations made.
Location
Institute Sessions are hosted around the country in various host cities each year.
How it Works
We make it easy for you to get expert feedback on critical challenges facing your city. Here's what to expect:
01

—

Express Interest.

Contact us to let us know you're interested in Institute Sessions.

02

—

Get invited.

An MICD representative will contact you with an invitation when a session matches your city's needs.

03

—

Host a site visit.

Select three potential projects to discuss with your MICD session host during an advance visit to your city.

04

—

Present your project.

At the session, you'll give a 15-minute presentation about your city and your project.

05

—

Gain new ideas.

Get expert advice on your project from the nation's top design leaders, learn from other mayors' projects, and explore the host city.

06

—

Stay in touch.

Receive a report of your recommendations after the session and stay tuned for MICD alumni opportunities.
FAQs
What is the cost of this program?
There is no cost to participating mayors or cities; there are no registration fees and MICD covers all travel expenses. Resource Team members receive a modest honorarium for their participation from MICD.
What does the MICD experience look like?
We think past participants say it best: 
"It is nothing like a typical conference, but rather much more like a grad school cohort. It was all-day learning, very engaging with tactical takeaways from every session." (Everett, WA Mayor Cassie Franklin) 
"The Mayors' Institute isn't a 3-day retreat from the bustle of your city. Instead, it is a reset — a moment to return to the imaginative first days of your term. I filled notebooks with ideas, inspirations, contacts and precedents to address deep issues in my city." (Salisbury, MD Mayor Jacob Day)
I learned more at MICD than I have in any prior conference. MICD should be required orientation for every mayor – no matter the city size. (Kansas City, MO Mayor Quinton Lucas)
How can I request an invitation?
Simply contact us and MICD staff will reach out with an invitation to an appropriate session in the future.
Can I request an invitation to a specific session?
Each MICD session is curated with different themes, commonalities, and city sizes in mind. We invite you to express interest in a particular session, though due to very limited participation at each session, MICD cannot guarantee invitations to specific sessions.
Can I bring staff?
Mayors attend MICD sessions without staff, which allows for an intimate, candid environment for problem-solving. We encourage mayors to include staff in the pre-session site visit, presentation preparation, and follow-up after the session. 
In addition, MICD offers additional programming for alumni mayors that engages key staff members throughout the process. Sign up for our email list or learn more about the MICD Just City Mayoral Fellowship, Alumni Technical Assistance, and Virtual Seminars.
What types of projects are well-suited for the MICD experience?
The session host will assist you with selecting a project best suited to your Institute Session. For more inspiration, explore past MICD projects here.
How do I prepare for the session?
After you accept an invitation, MICD will provide detailed information about preparing for your participation. In general, sessions are designed to be an easy lift for the mayor and city staff: simply choose a few potential projects to discuss with the host during a pre-session site visit, prepare a presentation, and participate in the roundtable discussion once you arrive at your MICD session.
How can I get involved as a design leader?
MICD is always looking for new design leaders to fit various Resource Teams throughout the year, though participation at MICD sessions is extremely limited. Resource Team members are generally mid-to-late career professionals who have experience working in or with the public sector and have a personal mission to improve the fabric of American cities. Ideal candidates have deep experience in architecture, arts & culture, city planning, community engagement, economic development, housing, landscape architecture, real estate development, transportation, and/or urban design.  
Resource Team members are volunteers who receive a modest honorarium for their service. Each Resource Team member is expected to prepare a short (15-minute) presentation on their area of expertise, participate in a pre-session briefing call, and attend the entire session, offering advice and ideas to the mayors. Resource Team members are also asked to sign agreements stating that they will not seek work on the mayors' projects for one year following the session. While we often joke that serving on a Resource Team is like "design jury duty", our alumni often remark that they learned as much from the mayors as the mayors learned from them.
Learn more about getting involved as a design leader.
I represent a university or nonprofit and am interested in hosting an MICD Institute Session. How can I learn more?
While MICD staff plans and manages National Sessions around the country, we also partner with universities and nonprofits to host Special Sessions geared toward specific types of cities or project themes.
 In a typical year, MICD launches an RFQ in the fall seeking two institutions interested in hosting these sessions the following year. Universities with accredited Schools of Architecture, Landscape Architecture, and/or Urban Planning as well as nonprofit design organizations are eligible to apply. Hosts are selected through a competitive process. Up to $50,000 in funding is awarded by MICD to each selected host for reimbursement of approved direct expenses from the session.
Sign up for our email list to receive updates, and explore past years' RFQs to learn more about the typical process. 
Stay informed.
Receive program updates, event announcements, and city design news.