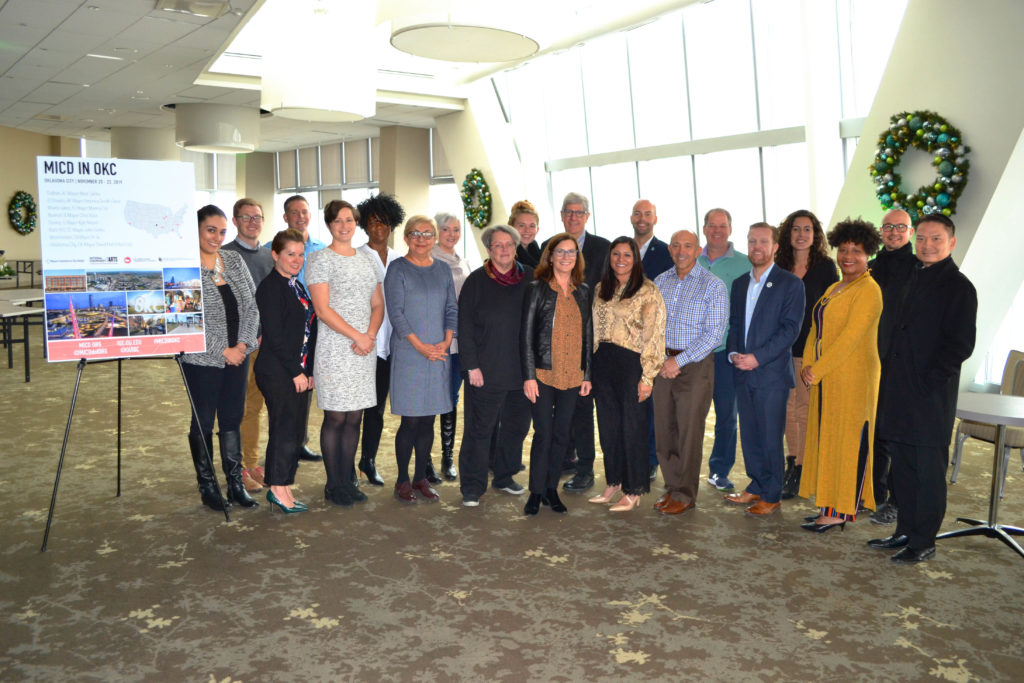 November 2019 – Oklahoma City, OK – The Institute for Quality Communities (IQC) at the University of Oklahoma (OU) hosted a regional session of the Mayors' Institute on City Design (MICD) in Oklahoma City, OK on November 20-22, 2019.
The event brought together seven mayors from around the United States to discuss the most pressing design and development challenges facing their cities. Seven experts in architecture, landscape architecture, urban planning, economic development, transportation, real estate development, and urban design joined the mayors for two and a half days of discussions, offering inspiration and pragmatic advice for each mayor's project. The attending mayors hailed from small- and mid-sized cities with an average population of 54,000.
The session began with a tour of Oklahoma City, showcasing the renaissance sparked by a series of investments known as MAPS. Mayor David Holt welcomed the group with reflections on Oklahoma City's past, present, and future. Hans Butzer, Dean of the Christopher C. Gibbs College of Architecture at OU; Shane Hampton, Director of IQC; and Trinity Simons, Executive Director of MICD also shared opening remarks and introduced the session's participants.
Over the two days that followed, robust discussions provided each mayor with concrete ideas for their projects as well as a new understanding of the design process and its role in governance. The mayors brought a range of case studies to this session, seeking to address a wide array of urban challenges through improvements to the built environment. Mayors took away design ideas for shaping more vibrant main streets, celebrating cultural assets, and creating places for community gathering
The discussions and recommendations focused on making paradigm shifts: streets should serve as connectors at the human level, not dividers that speed cars through; city leaders should design with the community and practice meaningful engagement every step of the way; infrastructure like levees and bridges can be flexible and multi-purpose, not engineered for a single use. "Small cities are dealing with big issues. Mayors have the power to shape our cities and impact lives for the good; MICD makes that evident and helps empower mayors to think big," says Mary Margaret Jones, landscape architect and Principal at Hargreaves Jones, who served as a Resource Team member for this session.
Members of the Resource Team, experts who served in a volunteer role on behalf of the nation's cities, introduced participating mayors to the design process and the ways it can generate creative solutions to complex problems. Through the lenses of architecture, planning, and related fields, mayors learned how to look at their cities with a fresh perspective and new appreciation of their role as "chief urban designer." Over the course of the session, the Resource Team shared a wide range of tools and best practices for infusing every city project with equity, resiliency, economic value, beauty and joy.
Mayors

Dothan, AL Mayor Mark Saliba
El Dorado, AR Mayor Veronica Smith-Creer
Miami Lakes, FL Mayor Manny Cid
Normal, IL Mayor Chris Koos
Quincy, IL Mayor Kyle Moore
Rock Hill, SC Mayor John Gettys
Westminster, CA Mayor Tri Ta
Resource Team

Paulina Baeza | Indian Nations Council of Governments, Tulsa, OK
Hans Butzer | University of Oklahoma, Norman, OK
Cathy O'Connor | Alliance for Economic Development, Oklahoma City, OK
Arti Harchekar | Alta Planning & Design, Oakland, CA
Mary Margaret Jones | Hargreaves Jones, New York, NY
Kennedy Smith | Community Land Use + Economics Group, Alexandria, VA
Gina Sofola | Sofola & Associates, Oklahoma City, OK
The Mayors' Institute on City Design is a leadership initiative of the National Endowment for the Arts in partnership the United States Conference of Mayors. Since 1986, MICD has helped transform communities through design by preparing mayors to be the chief urban designers of their cities. MICD conducts several sessions each year. For a list of upcoming events, past participants, and more information, visit micd.org and follow @MICDdotORG on Twitter.