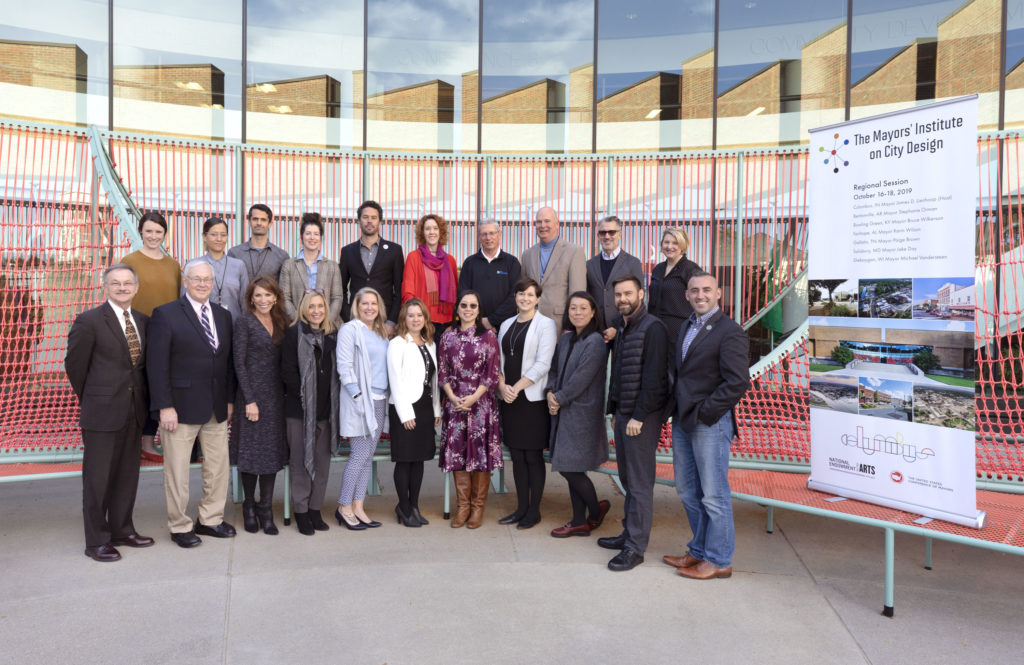 OCTOBER 2019 — COLUMBUS, IN — The 2019 Columbus Regional Session of the Mayors' Institute on City Design (MICD) took place in Columbus, IN from October 16-18, 2019. The session was hosted by Landmark Columbus, founded in 2015 to celebrate and build upon the unique heritage of Columbus, Indiana, which is home to a remarkable collection of modern architecture, art, and design.
Hosted in partnership with Columbus Mayor James Lienhoop, the event brought together six mayors from around the United States to discuss the most pressing design and development challenges facing their cities. Eight experts in architecture, landscape architecture, urban planning, economic development, transportation, real estate development, and urban design joined the mayors for two and a half days of discussions, offering pragmatic advice for each mayor's project. The attending mayors hailed from cities with similar population sizes to Columbus (48,000), similar geographical features, and sense of cultural heritage.
The session began with a tour of downtown Columbus, which showcased how bold investments in modern architecture put this small city on the map. This event coincided with Exhibit Columbus, an award-winning exhibition put on by Landmark Columbus throughout downtown that explores how art, architecture, and design can work to improve people's lives and make cities better places to live. Several members of the Resource Team created works for this year's exhibit and offered a behind-the-scenes look at their projects during the tour.
Over the opening reception and dinner, Mayor Lienhoop welcomed the group with reflections on his growing city and his 2017 participation in the Mayors' Institute. Welcome remarks also came from Richard McCoy, Executive Director of Landmark Columbus; Trinity Simons, Executive Director of MICD; and Courtney Spearman, Design Specialist at the National Endowment for the Arts.
Over the two days that followed, robust discussions provided each mayor with concrete ideas for their projects as well as a new understanding of a crucial element in their leadership portfolio: design. The mayors brought a range of projects to this session, seeking to address a wide array of urban challenges through improvements to the built environment. Mayors took away design ideas for improving walkability, building new parks, and shaping more resilient infrastructure; they also came away with a renewed commitment to community engagement and a clear sense of their role in leading their communities forward.
Members of the Resource Team, experts who served in a volunteer role on behalf of the nation's cities, introduced participating mayors to the design process and the ways it can generate creative solutions to complex problems. Through the lenses of architecture, planning, and related fields, mayors learned how to look at their cities with a fresh perspective and new appreciation of their role as "chief urban designer." Over the course of the session, the Resource Team shared a wide range of tools and best practices for conducting meaningful community engagement, infusing history, culture, and equity into every project.
Mayors
Columbus, IN Mayor Jim Lienhoop (Host)
Bentonville, AR Mayor Stephanie Orman
Bowling Green, KY Mayor Bruce Wilkerson
Fairhope, AL Mayor Karin Wilson
Gallatin, TN Mayor Paige Brown
Salisbury, MD Mayor Jake Day
Sheboygan, WI Mayor Michael Vandersteen
Resource Team
Paola Aguirre  |  Borderless Studio, Chicago, IL
Gina Ford  |  Agency Landscape + Planning, Cambridge, MA
Dave Hayward  |  City of Columbus, Columbus, IN
Chris Kroner  |  MASS Design Group, Poughkeepsie, NY
Helen Leung  |  LA-Mas, Los Angeles, CA
James Lima  |  James Lima Planning and Development, New York, NY
Shin-pei Tsay  |  Make Public, New York, NY
Bill Weyland  |  Weyland Ventures, Louisville, KY
The Mayors' Institute on City Design is a leadership initiative of the National Endowment for the Arts in partnership the United States Conference of Mayors. Since 1986, MICD has helped transform communities through design by preparing mayors to be the chief urban designers of their cities. MICD conducts several sessions each year. For a list of upcoming events, past participants, and more information, visit micd.org and follow @MICDdotORG on Twitter.
Group photo courtesy of Landmark Columbus