MICD Virtual Seminars feature a deep-dive presentation on a single timely topic from a design expert followed by a moderated group discussion among the attending mayors. Like conversations at MICD, discussions in virtual seminars are "off the record" and designed to promote candid conversation and the open exchange of ideas.
In this seminar, architect Deanna Van Buren explored how cities can create spaces of restoration rather than encourage mass incarceration. As co-founder of Designing Justice + Designing Spaces, an architecture and real estate development nonprofit, Deanna creates spaces and buildings for restorative justice, community building, and housing for people coming out of incarceration. This seminar explored the ways city leaders can reimagine traditional "justice cores" as community assets, through examples in Atlanta, Oakland, and more. Participating mayors had the opportunity to discuss how to create spaces of justice in each of their communities.
Watch the presentation (26:39):
Key Takeaways
By reimagining infrastructure used in the criminal justice system, cities can leverage the knowledge of their communities to transform these spaces to best serve the neighborhoods they occupy, fostering healing and accountability.
Repurpose & Reimagine
Hundreds of prisons and jails are closing their doors—more than 400 were shuttered for good in the U.S. over the last 15 years, most of which continue to sit vacant. Without active intervention, these spaces may become centers of incarceration by a different name or become abandoned eyesores.
These buildings do not exist in a vacuum; they directly impact the communities they inhabit. With focus and intention, these former sites of incarceration can be catalysts for positive change. Cities can take a range of actions in repurposing these facilities, from re-skinning and renovating the interiors, to demolishing the building and redeveloping the land with the specific purpose of restorative programming, to demolishing the building and distributing a network of equitable centers of justice throughout the city.
Center for Equity
Atlanta, GA


At the heart of Atlanta lies a nearly 500,000-square-foot detention facility with a capacity for 1,300 detainees that hosts only 100 detainees currently. Mayor Keisha Lance Bottoms has prioritized optimizing the underutilized space to emphasize programming for wellness and healing, skills-building, economic mobility, and crime prevention. The project recently underwent a feasibility study that identified four development strategies for transforming the space into a Center for Equity.
Restorative Reinvestment
What would a city look like if restorative justice were the primary system used to address harm? Divesting from a system of incarceration is a critical step, but investing in the communities impacted is equally important. Involving the community in the process creates a greater sense of comradery amongst the folks that inhabit the same neighborhood, allows the pool of resources to be controlled and distributed equitably, and bouys the local economy by investing in the community directly.
Pop-Up Village
Bay Area, CA

It can take a lot of time, money, and political willpower to transform a static building. The beauty of pop-up architecture is its capacity to turn vacant or blighted outdoor spaces in resource-poor communities into dynamic, resource-rich hubs quickly and easily. As seen in this ongoing project in the Bay Area, nimble mobility of the pop-up village transmits resources directly into communities, with programming that includes health and wellness, youth and family needs, retail, food, and educational resources.
Hope Reentry Campus
Oakland, CA

The mission of the Hope Reentry Campus in Oakland, CA is to help formerly incarcerated residents get back on their feet by providing access to job training, advanced education, social services, and a place to live. The project leverages African-American churches, community buildings, warehouses, and other underutilized spaces and transforms them into comfortable spaces to rest and work.
About the Speaker
Deanna Van Buren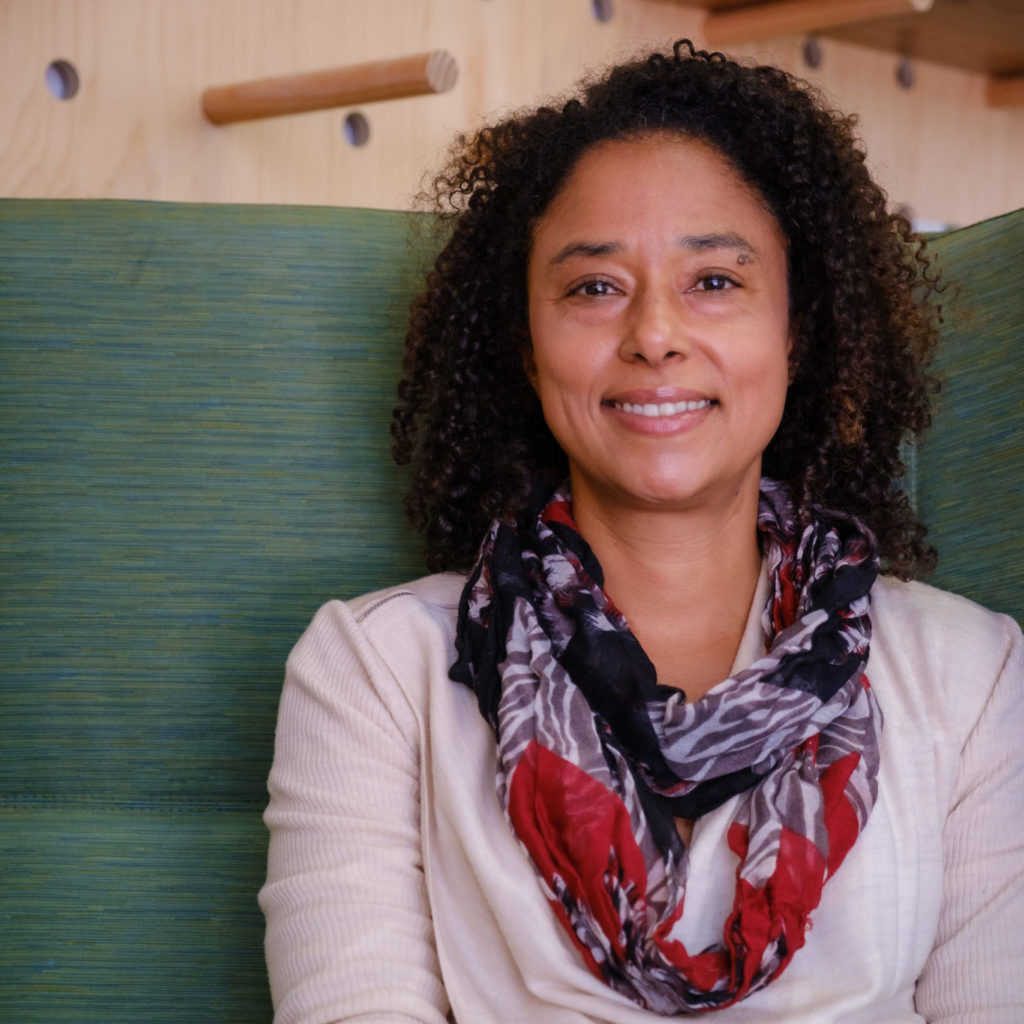 Deanna Van Buren is the Executive Director, Design Director, and Co-Founder of Designing Justice + Designing Spaces. She is a nationally-known advocate for magnifying the role of design for ending mass incarceration, and her work includes the creation of multi-use hubs for restorative justice and workforce development across the country. Van Buren was profiled by The New York Times in March 2020, and her TEDWomen talk on what a world without prisons could look like has been viewed more than one million times. She is the only architect to have been awarded the Rauschenberg Artist as Activist fellowship, and she is also the recipient of UC Berkeley's Berkeley-Rupp Architecture Prize and Professorship. Deanna received her BS in architecture from the University of Virginia and her MArch from Columbia University, and she is an alumna of the Loeb Fellowship at Harvard's Graduate School of Design.
Images courtesy of Designing Justice + Designing Spaces