MICD Virtual Seminars feature a deep-dive presentation on a single timely topic followed by a moderated group discussion among the attending mayors. Like conversations at MICD, discussions in virtual seminars are "off the record" and designed to promote candid conversation and the open exchange of ideas.
In the sixth MICD Virtual Seminar, recorded September 21, 2020, commercial district expert Kennedy Smith outlined a framework mayors can use to aid small businesses and main street districts during the pandemic: addressing immediate economic concerns, adapting to a more digital-friendly and distancing-friendly model, and tackling systemic problems laid bare by the pandemic.
This presentation expanded on Kennedy's list of actionable ideas in Safeguarding Small Business During The Pandemic: 26 Strategies For Local Leaders, a recent report from the Institute for Local Self-Reliance. View the full report for more information.
Watch the presentation (29:09):
Key Takeaways
Provide quick relief to keep businesses afloat. In addition to federal financial relief, cities should step in and offer more nuanced support to ensure equitable solutions for all.
Help businesses adapt and pivot. Taking businesses digital and reimagining how they operate during a pandemic safely and effectively is crucial to survival.
Fix systemic problems laid bare by the pandemic. A lot of restrictive policies and time-intensive processes have hindered the flexibility of businesses to change quickly. Addressing the weaknesses exposed by the need for these changes is critical.
Provide Quick Relief
As mayors know, the first step in helping small businesses survive the pandemic is to help keep their doors open. Federal financial relief was a helpful stopgap measure, but it did not offer aid equitably and did not address the significant modification of how businesses must operate during a pandemic. Mayors can help close loopholes and level the playing field for small businesses: when nonessential small businesses are required to close, cities should place similar limitations on nonessential shopping at big-box stores. Similarly, cities can pass legislation to limit excessive commission fees from app-based delivery services – or form their own local delivery networks – to protect local restaurants' profit margins. Local leaders also have the power to negotiate with landlords to relieve rent pressure.
Adapt & Pivot
A remarkable byproduct from the pandemic has been the widespread digitalization of businesses at a rapid rate. Building websites and making products available online have been instrumental in keeping businesses profitable even when their brick-and-mortar stores are temporarily shut down or observing limited capacities. New innovative channels of service and distribution have resulted as circumstances constantly change. With winter fast approaching, many cities have been brainstorming ways to maintain physical distancing outdoors. Innovative ideas such as providing heated pods or installing geothermal piping to help heat sidewalks may help businesses adapt and respond.
Fix Systemic Problems
The pandemic has laid bare many of the shortcomings and deficiencies of our economic support systems. Cumbersome permitting and zoning processes, a predisposition towards supporting large businesses first, and overdevelopment have all been to the detriment of small businesses. By streamlining permitting processes, making zoning more small business friendly, refocusing economic development on small businesses, and setting appropriate limits on new commercial development, local leaders can create much more flexibility for future scenarios where such actions may be necessary for their survival.
About the Speaker
Kennedy Smith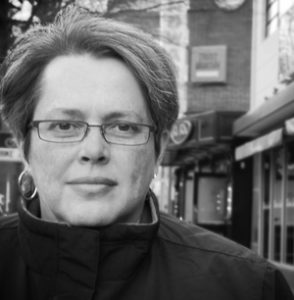 Kennedy Smith is one of the nation's foremost experts on commercial district revitalization, downtown economics, and independent business development. She co-founded the Community Land Use + Economics (CLUE) Group in 2004 and serves as a Senior Researcher at the Institute for Local Self-Reliance. Her work focuses particular attention on cultivating locally owned businesses, creating dynamic retail development strategies, creating effective business and property development incentives, finding new uses for key historic buildings, and strengthening the organizational infrastructure needed to create vibrant town centers. Kennedy has been honored by Planetizen as one of the "100 Most Influential Urbanists of All Time" (2017) and one of the "100 Top Urban Thinkers" (2009).