MICD Virtual Seminars feature a deep-dive presentation on a single timely topic followed by a moderated group discussion among the attending mayors. Like conversations at MICD, discussions in virtual seminars are "off the record" and designed to promote candid conversation and the open exchange of ideas.
In the fourth MICD Virtual Seminar, recorded August 11, 2020, planners and designers Zabe Bent, Dr. Destiny Thomas, and Ariel Ward critically reevaluate how rapid-response mobility programs address equity and how work plans for pandemic response can align with those goals.
Watch the presentation (30:35):
Key Takeaways
Support the most vulnerable first. Safeguard essential workers' mobility and create safe spaces for underserved populations.
Infuse dignity. Treat everyone with dignity and be mindful of their experienced traumas.
Prioritize equity. Focus on helping people most at risk of being harmed by the crisis at hand, especially in historically marginalized populations, and make sure solutions don't beget more harm.
Allocating resources to address the pandemic while simultaneously trying to finance the pre-established goals and objectives of a city is undoubtedly stressful. However, rather than thinking of pandemic response as extraand additional, it would be beneficial to align existing work plans with a city's pandemic response, while at the same time promoting equity.
Support the most vulnerable first
It is critical to first support essential workers who are key to maintaining a fundamental quality of life, particularly during a pandemic—this means prioritizing their mobility needs to make sure commutes are unimpeded. After supporting essential workers, it is vital to properly contextualize and amplify public health guidance, plan safer streets for today and tomorrow, ensure flexibility for small businesses, and bring communities into the decision-making process.
Infuse dignity
Conversations about COVID in the built environment often revolve around notions of preventing discomfort, which undermines the true urgency and crisis experienced by so many. Instead, focus on policies implementing harm reduction, a strategy centered around reducing negative consequences that impact vulnerable populations. City leaders can start by addressing traumas such as environmental toxicity, redlining, and health disparities exacerbated by the virus, all while maintaining dignity and respect for those who have experienced trauma.
Prioritize equity
"If equity is only your priority in times of ease and surplus, then it was never really your priority." — City of San Antonio, Office of Equity
Those who influence equitable outcomes must first address existing disparities impacting historically marginalized populations as well as handle new instances of inequity as they arise. City leaders must ensure that programs and policies do not worsen existing disparities for the marginalized and have a clear plan that evaluates the impacts and mitigates harm inflicted on the marginalized. Finally, leaders can equitably engage stakeholders and members of the community by addressing cultural, linguistic, accessible, or economic barriers.
About the Speakers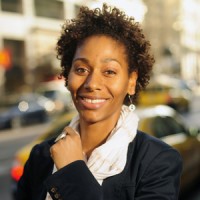 Zabe Bent  |  Director of Design, NACTO
Zabe Bent has nearly 20 years of experience in multimodal planning and urban development. She is skilled at conceptual design, transit planning, and communications. As a Principal Planner at the San Francisco County Transportation Authority, Zabe managed a range of efforts including advancing two of San Francisco's key bus rapid transit corridors, its congestion pricing feasibility study, the update to SF's long range countywide transportation plan, as well as several neighborhood transportation plans. Zabe also worked across the country as a Principal at Nelson\Nygaard and independently in cities like Boston, Addis Ababa, and Nairobi, focusing on complete streets design and policy, and bus rapid transit.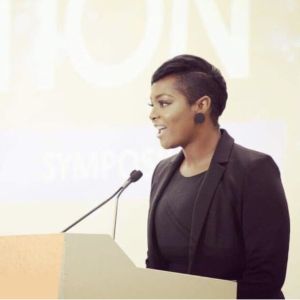 Dr. Destiny Thomas  |  Founder and CEO, Thrivance Group
Dr. Destiny Thomas is the Founder and Chief Executive Officer of Thrivance Group. An Anthropologist Planner from Oakland, CA, Dr. Thomas, has a combined 6 years of experience working in a Project Manager capacity within government agencies and 7 years of experience leading key advancements in racial equity initiatives across California, by way of community organizing, policy writing, and non-profit management in communities that have been most impacted by racial inequities. Areas of interest include: racial equity, implementing the "dignity-infused community engagement" methodology, anti-displacement studies, healing environmental and infrastructural trauma, and bolstering agency and voice in marginalized communities within municipal planning processes. In 2020, Dr. Thomas launched a culturally rooted, trauma-informed enterprise geared toward building capacity for these values within municipal agencies, direct service providers, and advocacy organizations.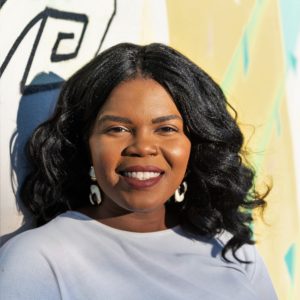 Ariel Ward  |  Transportation Engineer, SFMTA

Ariel Ward is a transportation engineer and planner by day and all things creative by night. A proud alumna of Howard University, she is inspired by community, compassion, and culture. Through community-based transportation planning, Ariel has sought to understand how urban planning and engineering can be used to generate solutions in communities where it once furthered inequity. With over 6 years of experience in both the private and public sector, she recognizes that transportation is a critical pathway to connecting people to people, resources, and opportunity – regardless of the circumstances of their birth or background.
Featured photo courtesy of NACTO