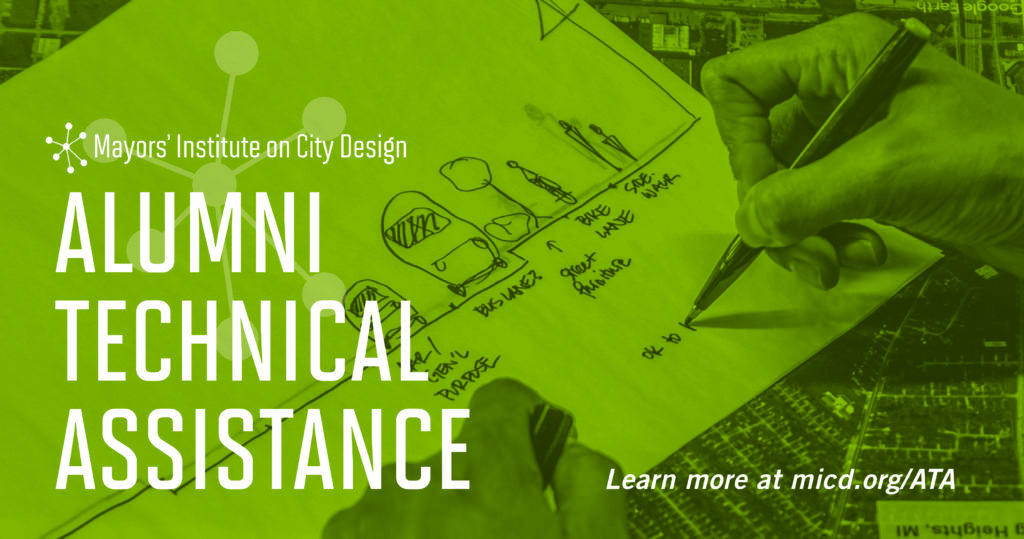 October 2020 – WASHINGTON, DC – To help mayors as they address the complex challenges facing today's cities, the Mayors' Institute on City Design (MICD) is pleased to announce a new program to offer technical assistance to MICD alumni mayors. MICD Alumni Technical Assistance will match selected mayors with a pair of nationally renowned design experts who will advise the mayor on their selected city design challenge.
Each mayor selected for this new program will receive advice on one of two types of projects: (1) a next iteration of the city design case study the mayor brought to a previous MICD session, or (2) a new opportunity tied to COVID-19 recovery and/or racial justice in the built environment.
Two MICD Resource Team alumni will be matched with each selected mayor to develop recommendations on their project. Over a six-week period, mayors will participate in a virtual launch meeting, the Resource Team will work with stakeholders to develop recommendations, and the mayor will join a virtual meeting to discuss the recommendations. There is no cost to participating mayors or cities; participation in this program is very limited. MICD will compensate the Resource Team directly for their time (estimated at 15-20 hours of consultation).
MICD alumni mayors and Resource Team members are invited to apply for this new program. Visit micd.org/ATA for more information about this program and to submit an application.
The Mayors' Institute on City Design (MICD), the nation's preeminent forum for mayors to address city design and development issues, is a leadership initiative of the National Endowment for the Arts in partnership with the United States Conference of Mayors. Since 1986, MICD has helped transform communities through design by preparing mayors to be the chief urban designers of their cities.