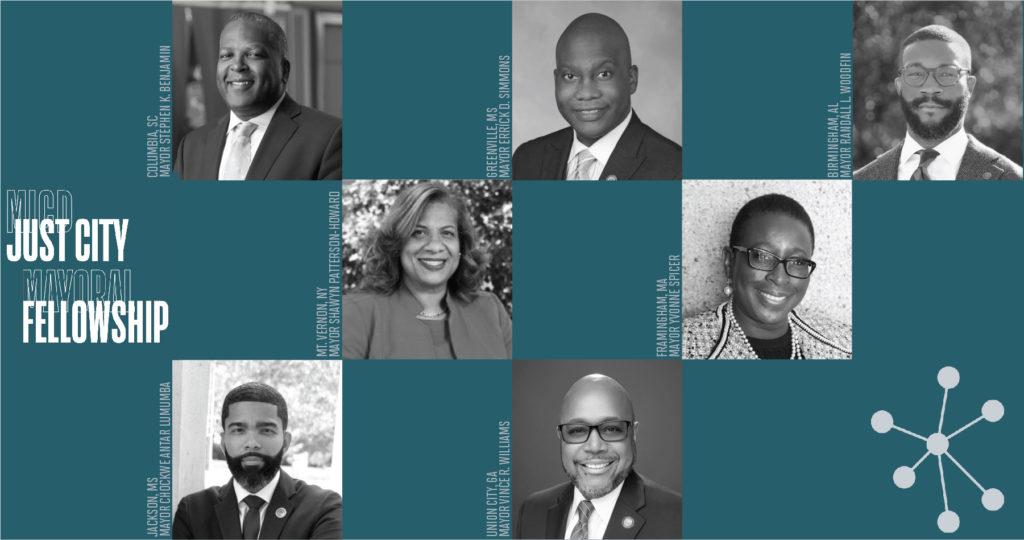 September 2020 – WASHINGTON, DC – The Mayors' Institute on City Design (MICD) and the Just City Lab at the Harvard Graduate School of Design are pleased to announce the inaugural MICD Just City Mayoral Fellowship, taking place virtually in late September to early December, 2020.
Using the MICD model, this unique and highly interactive program will bring together a small group of mayors and design experts to directly tackle racial injustices in each of their cities through planning and design interventions. As COVID-19 disproportionately harms the health and economic well-being of Black residents and the national protests around policing and public safety affecting African-Americans continue, this program will focus on planning and design solutions for the neighborhoods where these injustices play out. During the program, each mayor will select a predominantly Black neighborhood in their city that has historically seen under-investment and receive expert feedback on applying the language and tactics of racial justice to the neighborhood's future.
The inaugural MICD Just City Mayoral Fellows are Birmingham, AL Mayor Randall L. Woodfin; Columbia, SC Mayor Stephen K. Benjamin; Framingham, MA Mayor Yvonne Spicer; Greenville, MS Mayor Errick D. Simmons; Jackson, MS Mayor Chokwe Antar Lumumba; Mount Vernon, NY Mayor Shawyn Patterson-Howard; and Union City, GA Mayor Vince R. Williams.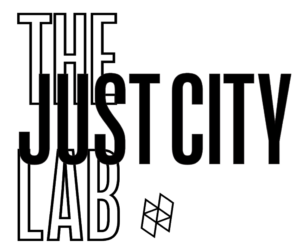 The Mayors' Institute on City Design (MICD), the nation's preeminent forum for mayors to address city design and development issues, is a leadership initiative of the National Endowment for the Arts in partnership with the United States Conference of Mayors. Since 1986, MICD has helped transform communities through design by preparing mayors to be the chief urban designers of their cities. The Just City Lab (JCL) is a design lab located within the Harvard Graduate School of Design (GSD) and led by architect and urban planner Toni L. Griffin. The Lab has developed nearly 10 years of publications, case studies, convening tools and exhibitions that examine how design and planning can have a positive impact of addressing the long-standing conditions of social and spatial injustice in cities.
The MICD Just City Mayoral Fellowship will utilize the Lab's Just City Index and lessons from its 2019 convening, the Just City Assembly, which challenged design practitioners to create a more visible agenda for disrupting injustice through design. These resources will frame dynamic presentations and dialogues by and with experts in the fields of architecture, landscape architecture, urban planning, art activism, housing and public policy. Mayors will learn best practices from the nation's leading experts on the intersection of urban design, planning, and racial justice while working toward creating a manifesto of action for the neighborhood they selected.
"This collaboration between the Just City Lab and the Mayors' Institute on City Design could not be more timely, nor more important," said Sarah Whiting, Dean of the Harvard Graduate School of Design. "We all know that our cities need help in recognizing the forces behind racial injustices—particularly in predominantly Black neighborhoods—and in finding vocabularies and strategies for transforming them into places of equity and opportunity. I'm excited to see the impact that this program will have and hope only that it's the beginning of a broader network of collaborations that will make "just cities" the standard for what we expect, not the exception to what so many experience."
"Mayors are on the front lines of every difficult conversation our communities are having right now," says Tom Cochran, CEO and Executive Director of the United States Conference of Mayors. "They have the power to seize this moment of reckoning with racial injustices and unite their communities around real solutions. The traditional MICD experience, with its candid, small-group format and access to national design experts, is so often transformative for mayors. There is no better model for empowering mayors to find solutions in our nation's cities, and we are proud to partner with the Just City Lab to launch this new program."
"This program will take the transformative power of MICD, which illuminates the power of design to tackle complex problems, and apply it to the defining challenge of our time: ensuring equity and justice for everyone regardless of their race or zip code," said Jennifer Hughes, Director of Design and Creative Placemaking at the National Endowment for the Arts. "Building on the Arts Endowment's vision to heal, unite, and lift up communities with compassion and creativity, we look forward to this collaboration between MICD and the Just City Lab."
MICD and the Just City Lab are thrilled to launch this fellowship to help mayors shape more just cities. Learn more about the host organizations at www.micd.org and www.designforthejustcity.org.