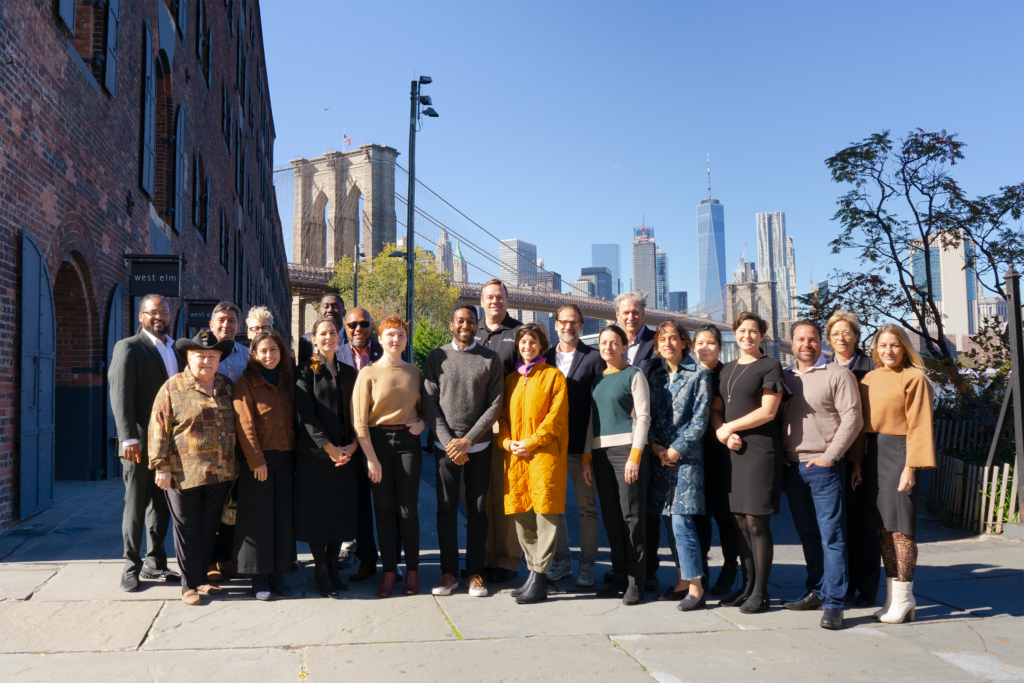 November 2019 — New York, NY — The 2019 New York City Regional Session of the Mayors' Institute on City Design (MICD) took place October 30 – November 1, 2019. The session was hosted by the Van Alen Institute, a 125-year-old nonprofit with a mission of transforming cities, landscapes, and regions through design to improve people's lives.
The event brought together seven mayors from around the United States to discuss the most pressing design and development challenges facing their cities. Eight experts in architecture, landscape architecture, urban planning, economic development, transportation, real estate development, and urban design joined the mayors for two and a half days of discussions, offering pragmatic advice for each mayor's project. The attending mayors hailed from cities of under 150,000 residents within larger metropolitan areas.
The session began with a tour of Brooklyn Bridge Park, which showcased how the formerly industrial site became a breathtaking waterfront park. The tour featured a presentation by Brooklyn Bridge Park President Eric Landau highlighting the park's most notable features, including the unique public-private partnership model behind its development. Over the opening reception and dinner that followed, Justin Garrett Moore, Executive Director of the New York City Public Design Commission, welcomed the group with reflections on the role city leaders can play in improving lives through design. Welcome remarks also came from Deborah Martin, Executive Director of the Van Alen Institute; Andrew Brown, Associate Director of Research at Van Alen; Jessica Lax, Director of Strategic Initiatives at Van Alen; and Grace Oran, MICD Program Manager.
Over the two days that followed, robust discussions provided each mayor with concrete ideas for their projects as well as a new understanding of the design process and its role in governance. The mayors brought a range of projects to this session, seeking to address a wide array of urban challenges through improvements to the built environment. Mayors took away design ideas for preserving cultural heritage, embracing community identity, designing for floodwaters, and creating an authentic public realm; they also came away with a renewed commitment to community engagement and a clear sense of their role in leading their communities forward.
Members of the Resource Team, experts who served in a volunteer role on behalf of the nation's cities, introduced participating mayors to the design process and the ways it can generate creative solutions to complex problems. Through the lenses of architecture, planning, and related fields, mayors learned how to look at their cities with a fresh perspective and new appreciation of their role as "chief urban designer." Over the course of the session, the Resource Team shared a wide range of tools and best practices for conducting meaningful community engagement, infusing history, culture, and equity into every project.
Mayors
Capitol Heights, MD Mayor Shawn Maldon
Davie, FL Mayor Judy Paul
Edina, MN Mayor James Hovland
Hollywood, FL Mayor Josh Levy
Maricopa, AZ Mayor Christian Price
Union City, GA Mayor Vince Williams
West Hollywood, CA Mayor John D'Amico
Resource Team
Allison Arieff | SPUR, San Francisco, CA
Bryan Lee Jr. | Colloqate Design, New Orleans, LA
Daniel Hernandez | Proyecto, Santa Barbara, CA
Margie Ruddick | Margie Ruddick Landscape + Design, Tarrytown, NY
Giselle Sebag | Bloomberg Associates, New York, NY
Andrea Batista Schlesinger | HR&A Advisors, New York, NY
Julia Day | Gehl, New York, NY
Jae Shin | HECTOR, Newark, NJ
The Mayors' Institute on City Design is a leadership initiative of the National Endowment for the Arts in partnership the United States Conference of Mayors. Since 1986, MICD has helped transform communities through design by preparing mayors to be the chief urban designers of their cities. MICD conducts several sessions each year. For a list of upcoming events, past participants, and more information, visit micd.org and follow @MICDdotORG on Twitter.