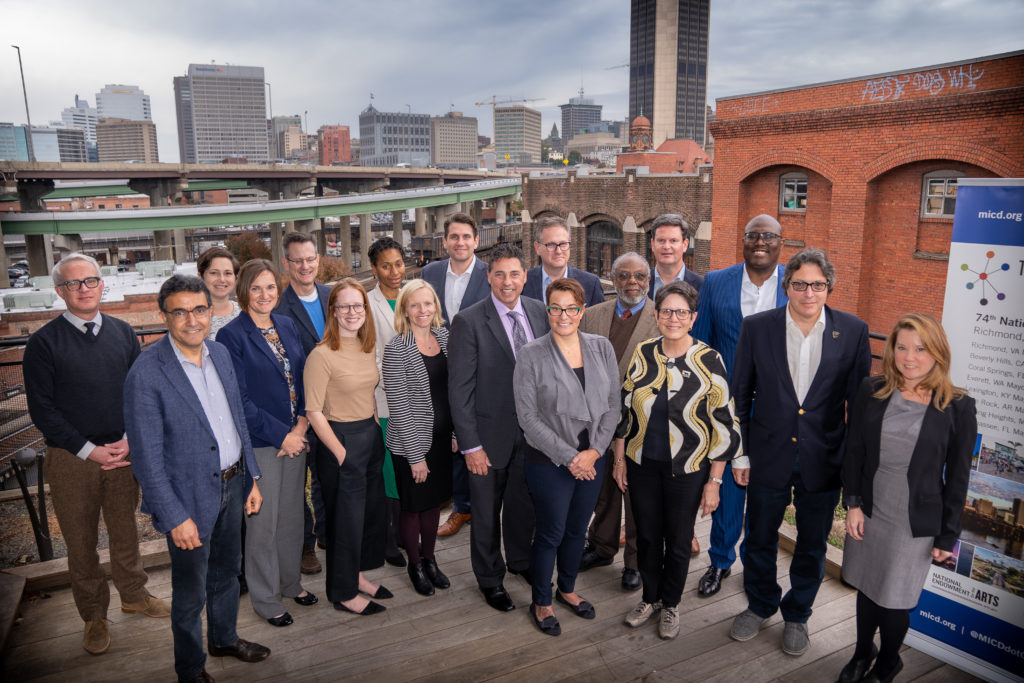 November 2019 — Richmond, VA — The 74th National Session of the Mayors' Institute on City Design (MICD) took place November 6-8, 2019 in Richmond, VA, hosted by Mayor Levar Stoney. The event brought together seven mayors from around the United States to discuss the most pressing design and development challenges facing their cities. Seven experts in architecture, landscape architecture, urban planning, economic development, transportation, real estate development, and urban design joined the mayors for two and a half days of discussions, offering pragmatic advice for each mayor's project.
The session began with a tour of Richmond, showcasing the city's rich history and highlighting current development projects, including Church Hill North, a redevelopment of a former high school into mixed-income housing, and the Navy Hill project, a $1.5 billion proposal to redevelop the area around Richmond Coliseum. The opening reception and dinner followed at the historic Hippodrome Theater. Mayor Stoney, who participated in the Mayors' Institute at the 67th National Session in 2017, welcomed the group with updates on his project, the Shockoe Bottom area, and reflections on the role of design in honoring the city's past and planning for its future. Welcome remarks also came from Trinity Simons, Executive Director of the Mayors' Institute on City Design; Jennifer Hughes, Director of Design and Creative Placemaking at the National Endowment for the Arts; and Tom McClimon, Managing Director at the United States Conference of Mayors.
Over the two days that followed, robust discussions provided each mayor with concrete ideas for their projects as well as a new understanding of the design process. The mayors brought a range of projects to this session, seeking to address a wide array of urban challenges through improvements to the built environment. They took away ideas for turning outdated single-use sites into vibrant hubs of community activity, identifying short-term and long-term visions, designing safer streets, and strengthening economic anchors. The mayors also came away with a renewed commitment to community engagement and a clear sense of their role in leading their communities forward.
Members of the Resource Team, experts who served in a volunteer role on behalf of the nation's cities, introduced participating mayors to the design process and the ways it can generate creative solutions to complex problems. Over the course of the session, the Resource Team shared a wide range of tools and best practices for conducting meaningful community engagement, infusing history, culture, and equity into every project. Through the lenses of architecture, planning, and related fields, the Resource Team helped the mayors look at their cities with a fresh perspective and new appreciation of their role as "chief urban designer."
Mayors
Richmond, VA Mayor Levar Stoney (Host)
Beverly Hills, CA Mayor John Mirisch
Coral Springs, FL Mayor Scott Brook
Everett, WA Mayor Cassie Franklin
Lexington, KY Mayor Linda Gorton
Little Rock, AR Mayor Frank Scott, Jr.
Sterling Heights, MI Mayor Michael Taylor
Tallahassee, FL Mayor John Dailey
Resource Team
Zabe Bent | National Association of City Transportation Officials, New York, NY
Omar Blaik | U3 Advisors, Philadelphia, PA
Nina Chase | Merritt Chase, Pittsburgh, PA
Jake Davis | DLR Group, Chicago, IL
Ted Landsmark | Northeastern University, Boston, MA
Josh Martin | Town of Palm Beach, Palm Beach, FL
Sarah Nurmela | City and County of Denver, Denver, CO
The Mayors' Institute on City Design is a leadership initiative of the National Endowment for the Arts in partnership the United States Conference of Mayors. Since 1986, MICD has helped transform communities through design by preparing mayors to be the chief urban designers of their cities. MICD conducts several sessions each year. For a list of upcoming events, past participants, and more information, visit micd.org and follow @MICDdotORG on Twitter.