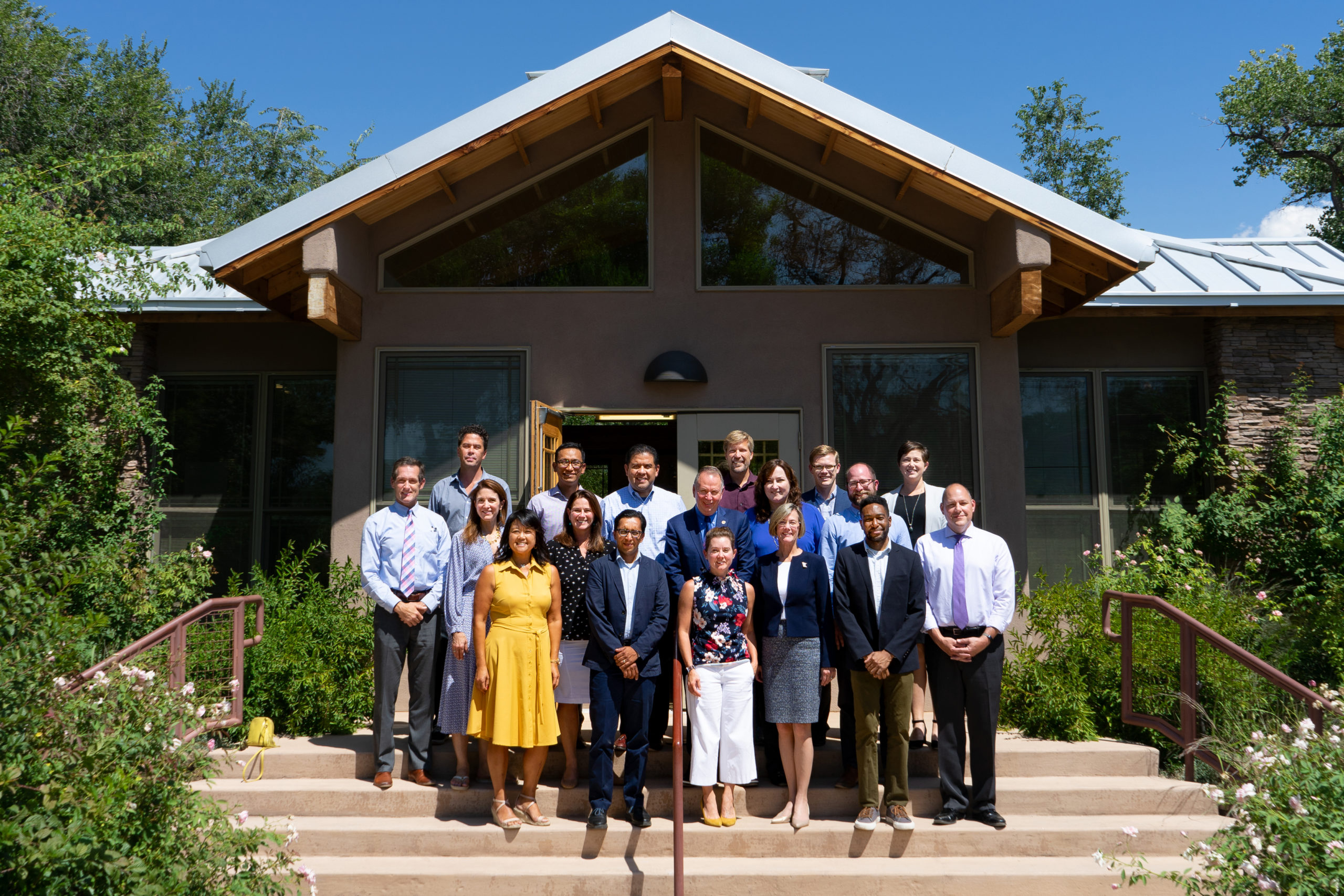 September 2019 – Albuquerque – The 73rd National Session of the Mayors' Institute on City Design (MICD) took place in Albuquerque, NM from September 4-6, 2019, hosted by Mayor Tim Keller. Eight national experts in architecture, landscape architecture, urban planning, economic development, transportation, real estate development, and urban design joined a group of seven mayors from around the country in two and a half days of discussions, offering pragmatic advice on how to approach the design and development challenges facing each of the mayors' cities.
The session began with an open-air trolley tour of Albuquerque led by Mayor Keller, showcasing the city's history, economic dynamics, and challenges. Participants learned about new developments like the Sawmill District, a mixed-use neighborhood that will be anchored by a new market, and El Vado, a historic Route 66 motel that has been rehabilitated with micro-retail spaces and a brewery taproom. The mayor also spoke about Albuquerque's investment in cultural resources, like the historic Old Town Plaza, which dates to the 1700s, and a nearby complex of museums.
The tour ended with a walk-through of the Albuquerque Rail Yards, a large complex of abandoned industrial warehouses in the early stages of redevelopment by the City of Albuquerque. The opening reception and dinner featured remarks by Mayor Keller and three former mayors of his city: Richard J. Berry, Martin Chavez, and Jim Baca. Each remarked upon the role of the Rail Yards as the heart of the city and spoke to the economic importance of breathing new life into authentic, cherished places. MICD executive director Trinity Simons, New Mexico Arts acting executive director Jenice Gharib, and Rochester Hills, MI Mayor Bryan K. Barnett, the 77th President of the United States Conference of Mayors, welcomed participants and stressed the importance of design and the design process in building a stronger future for communities.
Over the two days that followed, mayors received concrete design recommendations for their projects as well as a new understanding of design thinking. The participating mayors all hoped to build upon their cities' unique character, spurring economic investment in overlooked places by igniting (or reigniting) residents' love of these sites. Many of the design recommendations focused on opening up access to disconnected locations and activating underutilized spaces, using temporary design interventions to illustrate the wide range of possibilities for each place.
Members of the Resource Team, experts who served in a volunteer role on behalf of the nation's cities, shared a curriculum of cutting-edge ideas and key design principles. The importance of temporary activation came up again and again, with dozens of ideas for temporary designs that can boost economic activity, increase safety, and serve as a hands-on community engagement strategy. The Resource Team members also stressed that mayors have many tools at their disposal to set the tone, vision, and goals for big-picture projects.
The Mayors' Institute on City Design is a leadership initiative of the National Endowment for the Arts in partnership the United States Conference of Mayors. Since 1986, MICD has helped transform communities through design by preparing mayors to be the chief urban designers of their cities. MICD conducts several sessions each year. For a list of upcoming events, past participants, or for more information, visit micd.org and follow @MICDdotORG on Twitter.
Mayors
Albuquerque, NM Mayor Tim Keller (Host)
Beverly, MA Mayor Michael Cahill
Broken Arrow, OK Mayor Craig Thurmond
Charleston, WV Mayor Amy Goodwin
Green Bay, WI Mayor Eric Genrich
Parkland, FL Mayor Christine Hunschofsky
Rochester, MN Mayor Kim Norton
San Bernardino, CA Mayor John Valdivia
Resource Team
Susannah Drake | DLANDstudio, New York, NY
Shane Hampton | Institute for Quality Communities at the University of Oklahoma, Norman, OK
Meea Kang | Related California, San Francisco, CA
Andrew Brown | Van Alen Institute, New York, NY
Richard McCoy | Landmark Columbus, Columbus, IN
Sagar Onta | Toole Design, Denver, CO
Amit Price Patel | SITELAB urban studio, San Francisco, CA
Scott Sizer | Fairfax County, Fairfax, VA