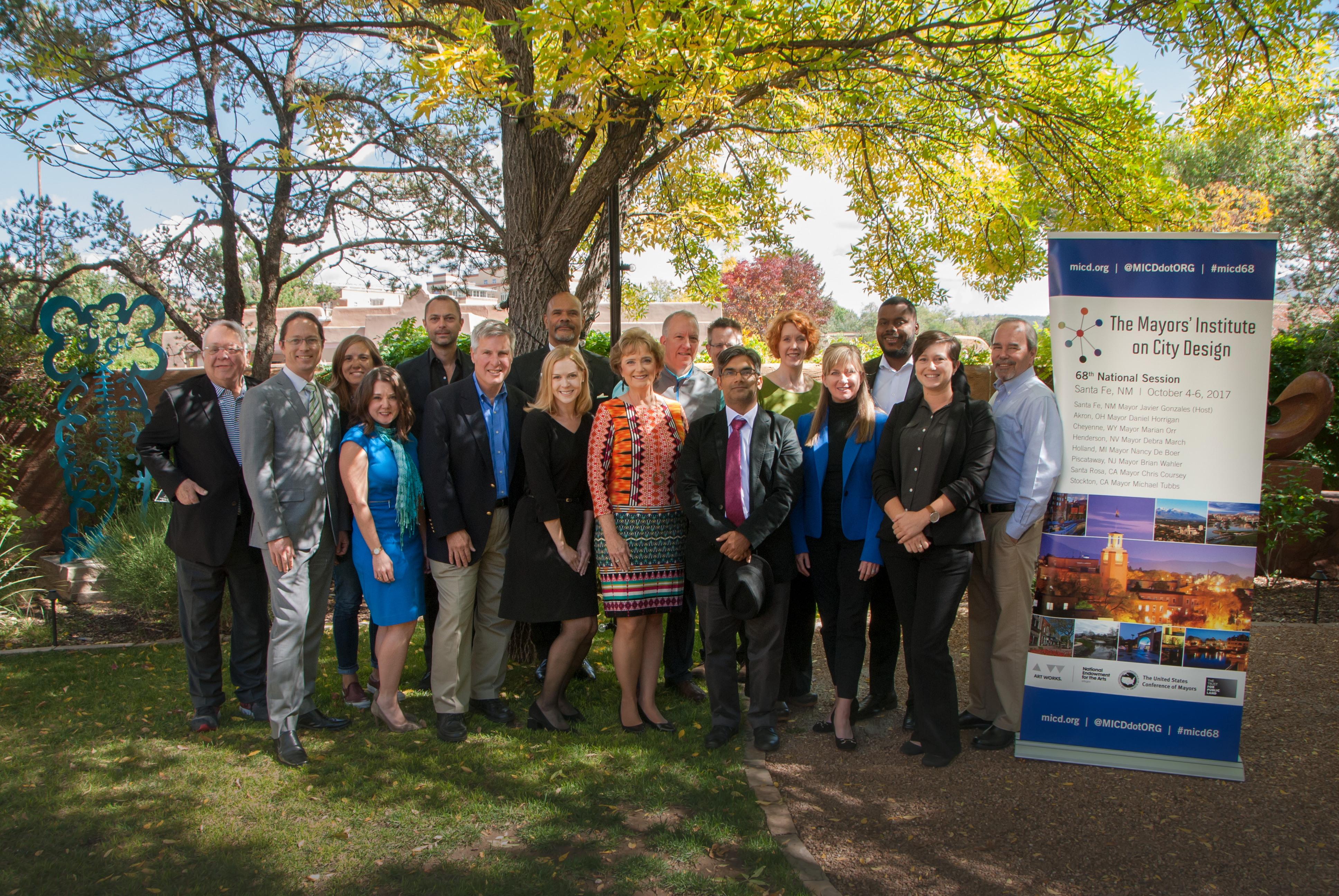 October 2017 – SANTA FE – The 68th National Session of the Mayors' Institute on City Design (MICD) was held in Santa Fe, NM from October 4-6, 2017. Hosted by Mayor Javier Gonzales, the event was attended by Akron, OH Mayor Daniel Horrigan; Cheyenne, WY Mayor Marian Orr; Holland, MI Mayor Nancy De Boer; Piscataway, NJ Mayor Brian Wahler; Santa Rosa, CA Mayor Chris Coursey; and Stockton, CA Mayor Michael Tubbs.
Experts in architecture, landscape architecture, urban planning, economic development, transportation, real estate development, and urban design joined the mayors in the two-and-a-half-day discussions and offered pragmatic advice on how the mayors could approach the design and development challenges facing each of their cities.
The 68th National Session began with a walking tour of Santa Fe led by David Rasch from the city's Historic Preservation department. The tour showcased the rich architectural history and vibrant public spaces of New Mexico's capital city. Later that evening, the opening reception and dinner took place at Peters Projects. Mayor Gonzales, who completed the Mayors' Institute in 2014, welcomed participants to Santa Fe after opening remarks from MICD Executive Director Trinity Simons, National Endowment for the Arts Senior Deputy Chair Mary Anne Carter, and U.S. Conference of Mayors CEO & Executive Director Tom Cochran.
Mayor Horrigan initiated the discussions the following morning with a presentation on Akron's Innerbelt. Until recently, the space held a long-underutilized expressway; it now features thirty new acres of prime real estate next to downtown. The Resource Team suggested ways to harness its unique topography for temporary programming and long-term public value.
Mayor Tubbs followed, eager to hear the team's thoughts on the future of the Stockton Waterfront. With well-designed public spaces and many anchor institutions – soon to include a relocated City Hall – the Waterfront's vacant lots present an opportunity to recreate the historic vibrancy of Stockton's downtown. The Resource Team offered ideas for attracting people to this area in the short term and engaging them to create a shared vision for its future.
Next, Mayor De Boer introduced another waterfront project that presented distinctly different challenges and opportunities. A recently-decommissioned coal plant near Holland's bustling small-town main street could be the missing piece for reconnecting downtown to the industrial waterfront. The Resource Team unanimously suggested repurposing the plant's unique architecture for new uses, while exploring ways to weave the site – and others along the water – into the city's vibrant downtown.
To kick off the second day, Mayor Orr presented an overview of the West Edge neighborhood in downtown Cheyenne. The area's historic street grid and industrial character make it an attractive area for infill housing with a uniquely local flavor, while flooding has been a concern in the past. The project sparked a lively discussion about designing vibrant public spaces that not only foster economic development but also include proactive stormwater management measures.
Mayor Wahler brought forward an empty space that he hopes will become a much-needed central gathering place for residents and workers in Piscataway. Current plans for this town center development leave room for more targeted design goals, so the Resource Team recommended strategies for defining the community's vision for the new civic plaza, mixed-use areas and residential developments.
Mayor Coursey concluded the Institute with an overview of the opportunities for new development in downtown Santa Rosa. With a strong market, a well-developed downtown, and expanding transit access, the area already has many of the qualities needed to support a more diverse mix of uses. The Resource Team dug deep into how to attract the right developers and ensure that all residents' needs are met with any new projects.
Joining the mayors at this National Session was a distinguished group of Resource Team members: Studio Gang Principal of Urbanism and Civic Impact Gia Biagi; Elissa Hoagland Izmailyan, Principal at HR&A Advisors; Bill Gilchrist, Director of Planning & Building for the City of Oakland; Markus Jatsch, Partner at Martha Schwartz Partners; Mukul Malhotra, Principal and Director of Urban Design at MIG; and Casius Pealer, Director of Sustainable Real Estate Development at the Tulane School of Architecture.
The Mayors' Institute on City Design is a leadership initiative of the National Endowment for the Arts in partnership the United States Conference of Mayors with support from the Trust for Public Land. Since 1986, MICD has helped transform communities through design by preparing mayors to be the chief urban designers of their cities. MICD conducts several sessions each year. For a list of upcoming events, past participants, or for more information, visit micd.org and follow @MICDdotORG on Twitter.