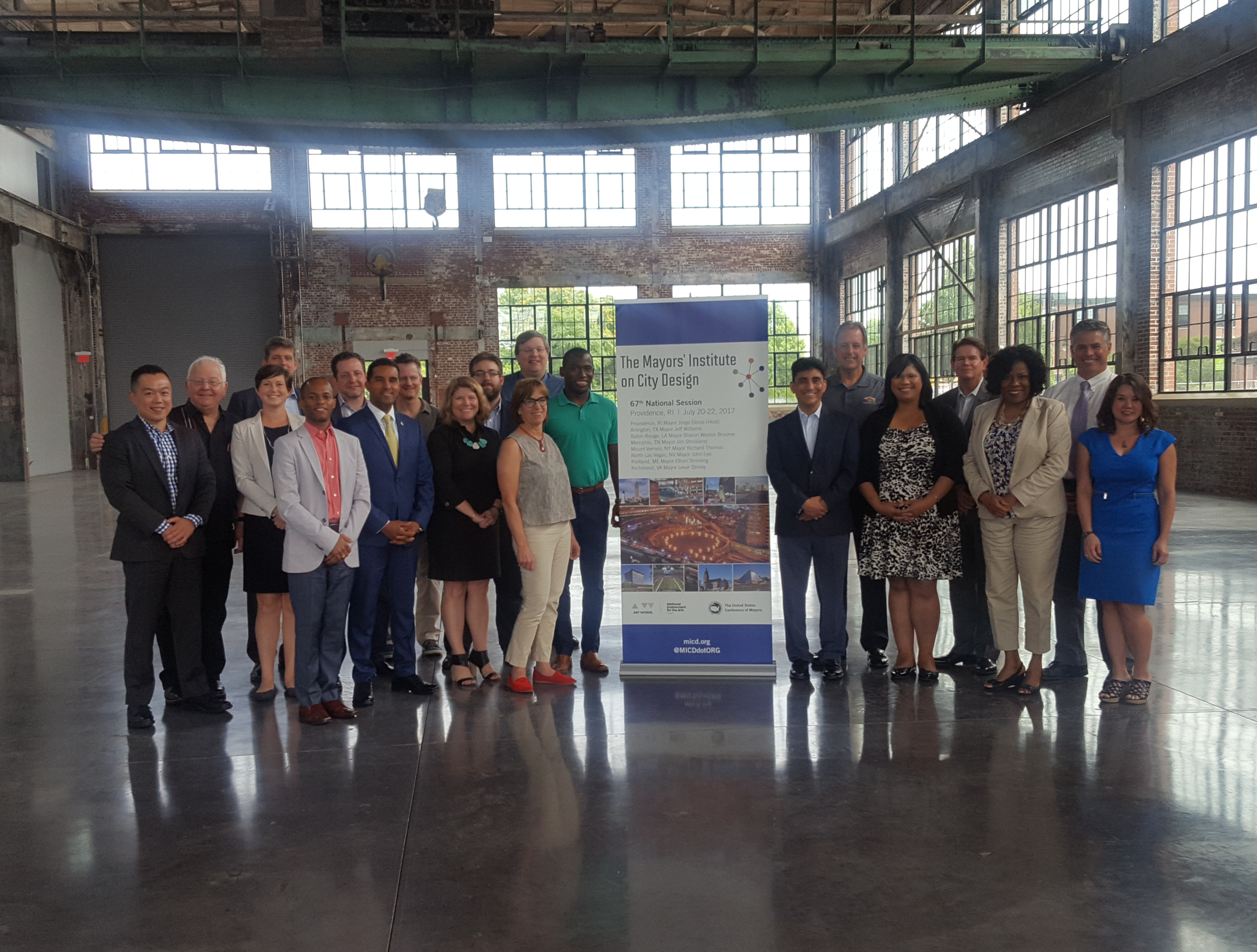 July 2017 – PROVIDENCE – The 67th National Session of the Mayors' Institute on City Design (MICD) was held in Providence, RI from July 20-22, 2017. Hosted by Mayor Jorge Elorza, the event was attended by Arlington, TX Mayor Jeff Williams; Baton Rouge, LA Mayor Sharon Weston Broome; Memphis, TN Mayor Jim Strickland; Mount Vernon, NY Mayor Richard Thomas; North Las Vegas, NV Mayor John Lee; Portland, ME Mayor Ethan Strimling; and Richmond, VA Mayor Levar Stoney.
Experts in architecture, landscape architecture, urban planning, economic development, municipal finance, transportation planning, real estate development, and urban design joined the mayors in the two-and-a-half-day discussions and offered pragmatic advice on how the mayors could approach the design and development challenges facing each of their cities.
The 67th National Session began with a tour of Providence led by the Bob Azar, Deputy Director of the city's planning department and Steve Durkee, a prominent local architect. The tour showcased the transformation of Providence since the removal of I-95 from the heart of downtown. Later that evening, the opening reception and dinner were held at the Providence Art Club. Mayor Elorza, who completed the Mayors' Institute in 2015, welcomed participants to Providence after opening remarks from MICD Executive Director Trinity Simons and U.S. Conference of Mayors CEO & Executive Director Tom Cochran.
Mayor Levar Stoney initiated the discussions the following morning, presenting on Richmond's unique opportunity to transform a low-lying area next to downtown into a vibrant area that draws people in with its rich history. The Resource Team brainstormed ways properly memorialize the remnants of a slave jail and African-American burial ground while meaningfully engaging the community on a larger vision for the area.
Mayor Jim Strickland followed, eager to hear the team's thoughts on the future of the Mid-South Fairgrounds in eastern Memphis. Anchored by the Liberty Bowl stadium, which is vacant for all except a few days a year, the study area has great potential to become a tourist draw while also providing community amenities for residents. From transportation improvements to creative new facilities, the Resource Team offered many ideas for activating this site year-round.
Arlington Mayor Jeff Williams brought to the table a blank-slate site well-suited to building a large corporate headquarters. Informed by the site's proximity to multiple stadiums, the forthcoming Texas Live! entertainment complex, Six Flags Over Texas, and a possible high speed rail station, the Resource Team weighed in on the city's role in connecting all the sites and capitalizing on the district's identity to attract exceptional development proposals.
With a study area spanning a long stretch of Foster Drive, Baton Rouge Mayor Sharon Weston Broome sees an opportunity to make good on her commitment to improving lives in the city's underserved northern area. The Resource Team offered tools to ensure that every infrastructure project improves not only the physical environment but also quality of life. Investing in even the smallest streetscape upgrades could improve the safety of all road users while also boosting economic opportunity for all residents.
To kick off the second day, Mayor Ethan Strimling introduced Portland's Foster Drive, another corridor project with a similar name but distinctly different challenges. Separated from downtown by just a few blocks but significant physical and perceived barriers, the project sparked a lively discussion about how to create a distinct identity and define the right kind of development for this important gateway corridor.
Mayor John Lee brought a series of city-owned parcels to the table in the hopes of putting a distinctly North Las Vegas downtown on the map and diversifying his city's economy. The Resource Team recommended strategies for creating an inviting sense of place and tactics for attracting residents from the workforce in nearby Las Vegas, while using public dollars as a catalyst for private investment.
Mayor Richard Thomas concluded the Institute with an overview of Mount Vernon's redevelopment opportunities along the Hutchinson River, including the long-contested fate of the crumbling stadium at Memorial Field. Recognizing an opportunity to help the mayor's beloved hometown thrive for decades to come, the Resource Team dug deep into tackling the city's infrastructure challenges and offered insights into potential partners to supplement city staff and finances.
Joining the mayors at this National Session was a distinguished group of Resource Team members: Russell Brito, Urban Design & Development Division Manager at the City of Albuquerque Planning Department; Justin Ferguson, Executive Director of Outreach and Engagement at Ball State University's College of Architecture and Planning; Lourdes Germán, Director of International and Institute-Wide Initiatives at the Lincoln Institute of Land Policy; HKS Architects Principal and Senior Vice President Shannon Kraus; New York City Public Design Commission Executive Director Justin Moore; Patrick Quinton, co-founder and CEO of Dweller; Seleta Reynolds, General Manager of the Los Angeles Department of Transportation; and Lucinda Sanders, OLIN Partner and CEO.
The Mayors' Institute on City Design is a leadership initiative of the National Endowment for the Arts in partnership the United States Conference of Mayors with support from the Trust for Public Land. Since 1986, MICD has helped transform communities through design by preparing mayors to be the chief urban designers of their cities. MICD conducts several sessions each year. For a list of upcoming events, past participants, or for more information, visit micd.org and follow @MICDdotORG on Twitter.