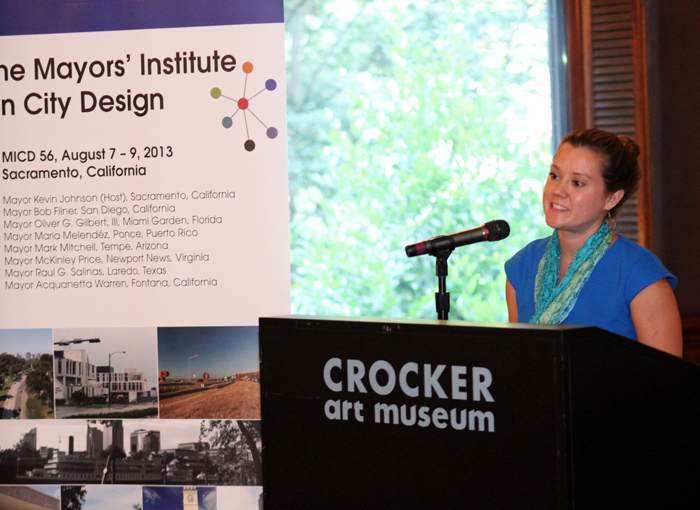 June 25, 2012 — WASHINGTON — Trinity Simons has been named director of the Mayors' Institute on City Design (MICD), a National Endowment for the Arts (NEA) leadership initiative in partnership with The United States Conference of Mayors and the American Architectural Foundation. Since 1986, the Mayors' Institute has helped transform communities through design by preparing more than 900 mayors to be the chief urban designers of their cities.
Simons joins MICD from Enterprise Community Partners, in Wellesley, Mass., where she was a program officer for national design initiatives and directed the Rose Architectural Fellowship. Enterprise's mission is to create opportunity for low- and moderate-income people through affordable housing in diverse, thriving communities.
Prior to joining Enterprise, Simons was a leader in the national design community through her work as national vice president of the American Institute of Architecture Students. She has also served on the Boards of Directors of the National Architectural Accrediting Board, the Association of Collegiate Schools of Architecture, and the Washington, D.C., Chapter of the American Institute of Architects. In addition, Simons is currently treasurer of the Association for Community Design, a national network of individuals, organizations, and institutions committed to increasing the capacity of planning and design professions to better serve communities.
Simons directly demonstrated her strong commitment to the Mayors' Institute on City Design and its mission while serving as MICD program manager from 2005 to 2007 and as a delegate to the 2011 National Mayors Summit on City Design. Held in Chicago in April 2011, the Summit marked the 25th anniversary of MICD and brought together more than 300 alumni mayors, federal officials, and design professionals for a three-day event focused on the contemporary challenges and opportunities of city design.
Simons received her bachelor of architecture degree with high honors from the University of Arkansas and her master's degree in city planning from the Massachusetts Institute of Technology. At MIT, she focused her studies on city design and real estate development.
"The level of applicants for the director's position was outstanding, and the selection was difficult," said Ronald E. Bogle, president and chief executive officer of AAF. "However, Trinity was a standout in the process, and we know she will be an excellent director for the program."
On Simons selection, Tom Cochran, chief executive officer and executive director of The United States Conference of Mayors said, "The Conference is delighted to have Trinity back on the MICD staff as our new director. I am confident that she will represent the program and our partnership with distinction. We all look forward to the fresh leadership she will bring to this outstanding program."
"MICD's leadership in helping mayors find creative, innovative solutions to their most pressing challenges is unparalleled," said Simons. "I'm delighted to return to this program and work with our nation's mayors and top designers to explore ways design can impact the health of our cities and regions."
"For more than a quarter century, the Mayors' Institute on City Design has helped hundreds of mayors to use design as a catalyst for vibrancy, livability, sustainability, and economic success in their communities," said Jason Schupbach, NEA director of design. "We look forward to working with Trinity and our partners at the American Architectural Foundation and United States Conference of Mayors to continue to elevate the impact of the Mayors' Institute in cities across America."